.
There have been a Couple of years of record ice in Antarctica.
Satellites have been keeping track of the extent of ice in the Arctic and Antarctic since 1980.
The Antarctic Ice
It is interesting to see that in Antarctica the ice extent is setting new high ice extent records and recent ice thickness measurements are showing that the ice is thicker than anticipated as well.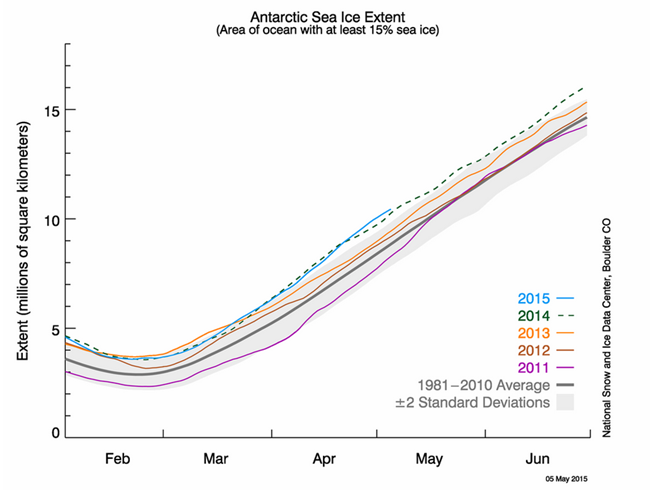 Antarctic sea ice extent averaged 9.06 million square kilometers (3.5 million square miles) for the month and is now the highest April extent in the satellite record. April extent was 300,000 square kilometers (116,000 square miles) higher than the previous record observed in 2014, and 1.70 million square kilometers (656,000 square miles) above the 1981 to 2010 long-term average. The Antarctic April extent was also above the two standard deviations of the long-term average.

The high sea ice extent in the Antarctic was a result of above-average extent in the Weddell Sea, and slightly more expansive ice cover in the Ross Sea. Interestingly, 925 hPa air temperatures over a wide area in the Weddell Sea were 1 to 4 degrees Celsius (2 to 7 degrees Fahrenheit) above average for the month of April. Lower-than-average air temperatures (1 to 4 degrees Celsius or 2 to 7 degrees Fahrenheit below average) were found in the Ross Sea, but only in the far west and not near the regions of record ice extent. While there remains considerable year-to-year variability of sea ice extent in the Antarctic, the trend in April sea ice extent for the Antarctic from 1979 to 2015 now stands at 4.1% per decade.
.
It's A Totally Different Story On The Next Page For The Arctic
.