Two Vertical Axis Wind Turbines Have Been Installed Inside The Eiffel Tower
A high profile world landmark has embraced the idea of green energy.
The US based onsite renewables specialist Urban Green Energy (UGE) announced that the two turbines have a power output of 10,000 KWh annually which is enough to power the ground floor shops at the tower.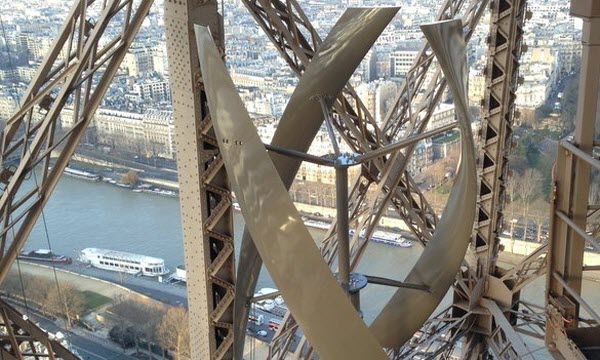 The company said the two UGE VisionAIR5 turbines are "virtually silent" and have been painted to match the rest of the tower.

It added that the site for the turbines 400 feet above the ground had been strategically chosen to maximise energy production and allow the turbines to take advantage of relatively steady winds.

Vertical axis wind turbines tend to deliver lower outputs than conventional turbines, but they are designed to operate in urban areas where winds tend to be less predictable and can come from multiple directions.

Nick Blitterswyk, chief executive of UGE, said the project represented something of a publicity coup for the global renewables industry.
Read More – Source Article       Image Source – Photograph: UGE