.
A Ridiculously Simple Wind Turbine That Is 5 to 20 Times More Efficient Than A 3 Bladed Wind Turbine
Mike Water's design is basically a squirrel cage arrangement set 90-degrees perpendicular to the incoming air, diverting all the incoming air to the perimeter where the highest torque can be generated.
Put another way the further away from the rotational axis you are the greater the torque you can generate.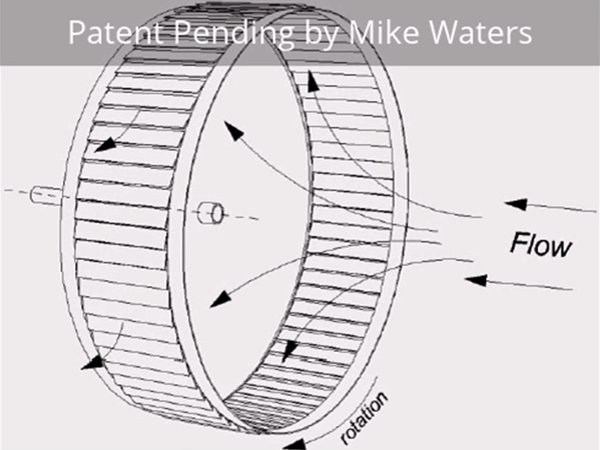 Furthermore, Mike says that even the "drag" effect contributes rather than diminishes in this design, much like a ridge accelerates air flow. A good analogy for this is when you are driving on the freeway close behind a semi-truck, your mileage improves, not just from his breaking the wind but because he is actually pulling you to a certain extent, so his mileage goes down.

Also, Mike's turbine will start rotating at less than 1 mph wind — so slight that you can't even tell there is a breeze.

Compare Mike's design to the typical three-bladed turbine you see deployed in most commercial applications nowadays. At low speed, most of the wind (like 95%) misses the blades, and the bulk of the blade is near to point of rotation, where the least torque is.

But a NASA aerodynamicist tested the design for several months, and someone from the audience at his Global BEM lecture built another prototype. What they found, independently, was so unbelievable that Mike didn't dare tell us the numbers until he had more corroboration. He certainly did not want me making any announcements until further validation.

I met the second guy at the Tesla Tech conference in July, who repeated to me what Mike had told us in private.

Using a wind tunnel to compare Mike's design to the conventional 3-blade design, they were getting numbers like 50x more efficient. FIFTY TIMES!!

In the wind industry, if you can get 5% improvement, you'll be making all kinds of friends and business deals. Mike's exhibits ONE THOUSAND TIMES MORE IMPROVEMENT THAN THAT!

Geoff told of an early demonstration he saw Mike do inside a car. He had the person turn their heater blower to full, and he placed a 3-bladed turbine in front if it, and it barely turned. Then he had them turn the blower to its lowest setting, and he took a similar diameter turbine of his squirrel cage design and held it back about 2-3 feet, and it was spinning rapidly from that low air flow.

What this means is that the size of the turbine can be much smaller to perform the same amount of energy harvesting as the much larger and cumbersome three-bladed design. You could easily transport and assemble this design and it can be used as a wind or water turbine.

Furthermore, the design is potentially much sturdier, hence able to hold up to high winds.

.

A Video And A DIY Version On The Next Page

.