Wavenergy.it Is Building Their First REWEC3 Caisson Civitavecchia, Near Rome, Italy.
The company builds a breakwater in the ocean and has a special structure on the ocean side where the water goes up and down in a chamber being driven by the ocean wave height outside.
The energy from the air being driven in and out of the chamber at the top is converted to electricity by turbines.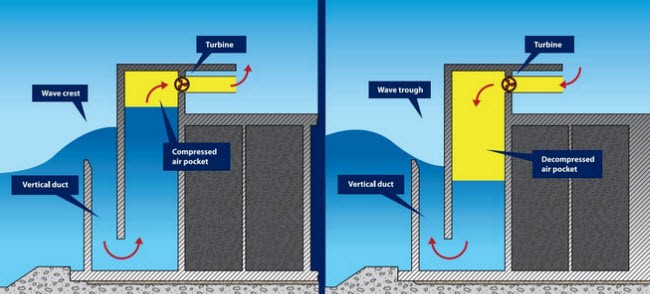 The water column acts as a piston on the air volume, pushing it through the turbine as the waves increase the water level in the chamber, and drawing it as the water level decreases.

A coaxial generator produces electrical energy.

The estimated REWEC3's average electricity production during 1 year period from a REWEC plant with total lenght of 1 km is 6 – 9 GW/h in the central Mediterranean Sea, 66 GW/h in the California region, and 40 GW/h for the Atlantic EU coast.
Watch the video and see the animated REWEC3 wave energy converter is action.
Discover more at the source article
Images are from the video